Themed Music Shows for Luncheons, Holidays, and Community  Events
Roots of American Music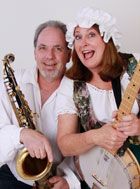 Learn about the multi-cultural roots of American music while traveling with performers Sandii Castleberry and Paul Carman through the Appalachian Mountains down to New Orleans, the birthplace of Jazz.  Performances on guitar, mandolin, banjo, spoons, dulcimer, canjo, harmonica, as well as flute, saxophone, clarinet and bass.  
This 45-minute show concludes with some audience members joining the musicians onstage to experience collective improvisation, one of key principles of jazz which is covered in the program.
   Three Cheers for the Red, White & Blue!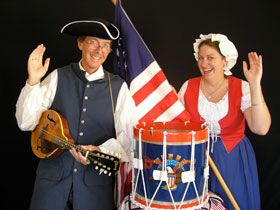 Sandii expertly through music tell the exciting stories behind America's patriotic songs and symbols.  Sandii is often joined by talented folk musician John Penn from La Quinta.   Lots of visually stimulating props, and whole group participation.  A great show during patriotic holidays, or to  promote patriotism. A show for all age groups. 
Celtic Shake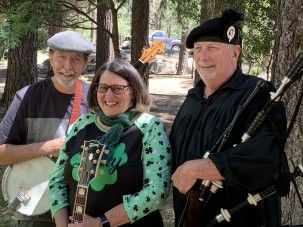 Harmonica, guitar, bodhran, (irish drum), & often a fiddle or a banjo thrown in helps celebrate St Patrick's Day any time of the year! Enjoy beautiful Celtic instrumentals, Irish aires as well as favorite pub sing alongs. History unfolds as Sandii tells the stories behind some of these songs, & how some of the most beloved Irish songs aren't  Irish at all!
Holiday Hoedown  Did you know that horses that pull sleighs through the snow wear bells because powdered snow is so quiet? How about that no two snowflakes are alike, just like people A fun performance for all ages that tell stories behind holiday songs and include the traditions of many cultures.  Lots of whole- group singing with this show!                      
Workshops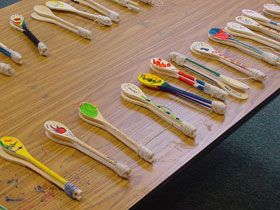 Musicial Spoon Making/Playing - Make, play, decorate and keep a pair of music spoons. Basic musical concepts covered.
  Music For Children & Families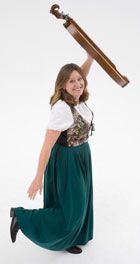 Sandii has combined her skills as a musician with her background in arts education. With a Masters Degree in Holistic and Integrative Education, 7 years as a classroom teacher, and  20 years as a teaching artist for the Segerstrom Center for the Arts in Orange County, CA, Sandii created music shows, residencies, and workshops for schools, libraries, festivals, and children's events. Her programs combine a hands-on experience, are educational, fun, and unique.  She also worked as  one of the multi-arts music teachers at the prestigous Idyllwild Arts Summer Camp program, for 10 years,  and taught ukulele at Skyland Girl Scout Camp in 2018.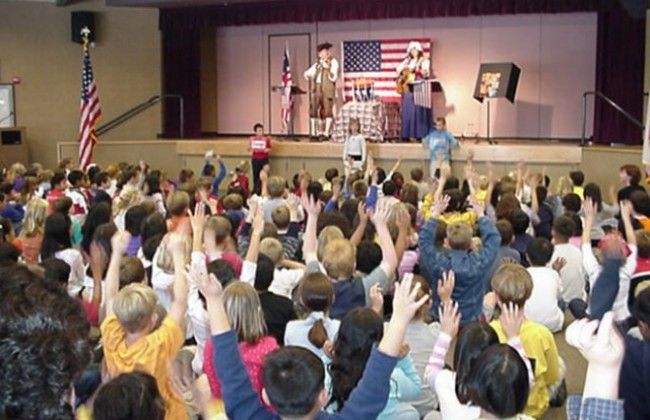 Singing the Way to Reading
A popular show with libraries that offer summer reading programs. Sandii connects children's folk songs with children's literature in a fun, participative program.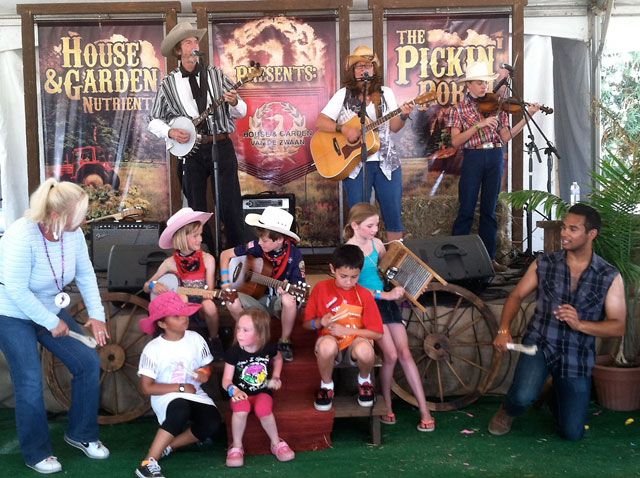 The Barn Dance - Grab your partner, and make two long lines facing each other.  You're about to embark on a very fun and easy dance experience that will fit in perfectly after that fall or summer barbecue event.  Hire Sandii and her country or bluegrass band for the afternoon, then conclude the event with this ever popular barn dance!  An almost 100 percent participation every time.
https://youtu.be/FJ544L9I1Cs