WELCOME TO SANDII CASTLEBERRY
LIVE MUSIC COMPANY !
Click on "Performance Schedule" to see where Sandii will be playing next.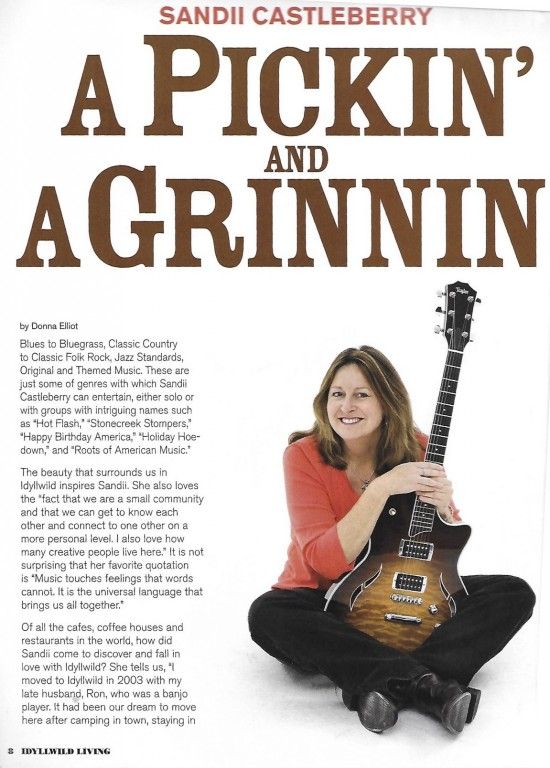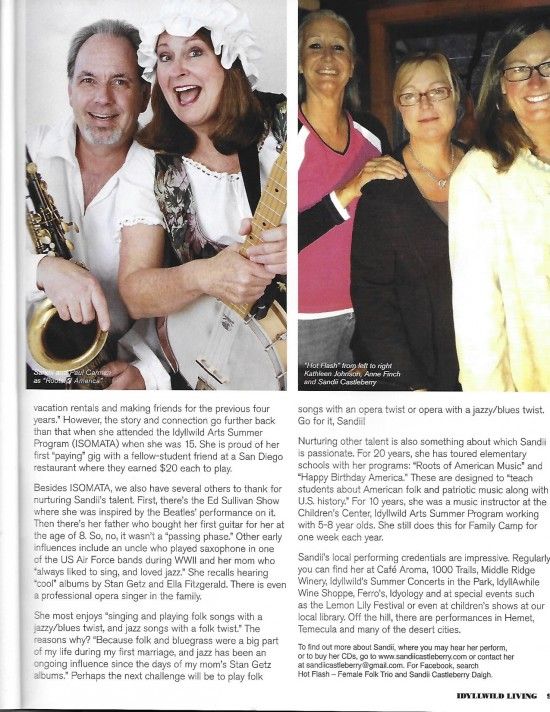 Sandii is a talented, diverse musical entertainer who really is a human jukebox! She can play and sing blues to bluegrass, jazz standards to rockabilly, traditional folk to county, and children's music to holiday tunes. She is also a songwriter, and spent 20 years as a roster artist for Segerstrom Center for the Arts in Orange County, California.  Sandii performs as a solo act, duo, trio and band, with or without  back-up tracks for that full band sound. Her main instruments include voice, guitar, and harmonica. She travels throughout California performing at concerts, festivals, restaurants, wineries, schools, and libraries.
  Sandii splits her time between Idyllwild, and San Clemente, and enjoys traveling to the Central Coast.  Her music takes her on many adventures, and Sandii is ready to bring her music (and her following) to your venue!
Here's a shortlist of some past (and some present) performances:

- Middleridge Winery Tasting Room and Gallery, Idyllwild, 2016 to Present
- Cafe Aroma Restaurant, Idyllwild 2003 to Present
- Carol's Restaurant at Baily Winery, Temecula 2014 to Present
- La Quinta Museum, 2013 to Present
-  BluEmber Restaurant, Rancho Las Palmas Hotel Rancho Mirage, 2014-2015
- Desert Aire Resort, Indio
-  Mission Inn Hotel wine bar, Riverside 2010-2011
- WinterFest for the City of Dana Point  2002-2015
-  Special events at the following desert country clubs: Sun Crest CC, Big   Horn, Thunderbird,  Chaparrel, The Reserve, Smoketree Ranch, Ironwood, Indian Wells, etc. 
 - Stagecoach Music Festival, Coachella Valley (2007-2011)
 - Huck Finn Jubilee, Temecula Bluegrass Festival  (2002-2006)
 - Laguna Beach Art Festivals: Sawdust & Art-a-Fair (1990-2014)
 - Concerts in the Park Dana Point, Idyllwild, Laguna Niguel, Moreno Valley, Irvine, Laguna Hills, Monrovia, Walnut, Diamond Bar, Brea, Palm Desert, Yorba Linda.
 IdyllAwhile Wine Shoppe, FERRO, & Idyology, in Idyllwild - ongoing
 - Idyllwild Jazz Festival (MC  for 5 years, & band played at special evening event). 
 - Cambria Pines Lodge, The Oaks Hotel, Central Coast and wine country.
 - Central Coast Wineries:  Graveyard, Vina Robles, Robert Hall, Peachy Canyon, Sculptera, Laetitia, Powell Mountain Cellars,  and Chateau Lettau and The Oaks Hotel.  
- Thousand Trails - since 2003 and ongoing
You can download her music online, or hire her to play at your next event.
Explore the options.  Visit the music page for adults, music for kids performance schedule, or download an electronic press kit. The menu is at the top of this page.