Press Kit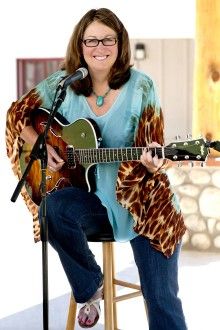 Sandii Castleberry is an amazing musical entertainer.  With an extensive repertiore of songs, she plays guitar and harmonica and sings everything from blues to bluegrass,  jazz standards to rock, and ballads to holiday favorites. She has been dubbed: "The Human Jukebox" with close to 700 songs!
For twenty years Sandii worked as an Arts Educator and performer.  She was as "roster artist" for Segerstrom Center for the Arts in Costa Mesa, CA.  During those years, she toured hundreds of schools with her performances and workshops weaving U.S. history with music.  It was in creating these themed shows and later obtaining her Masters in Holistic Integrative Education, that Sandii became quite capable of putting together music shows for multi-themed events that include (but not limited to) music for the Christmas holidays, patriotic, 60's music, beach bon-fire sing alongs, and St. Patrick's Day.
Sandii began playing the guitar when she was 8 years old, and became quite proficient by the time she was in middle school.  She wrote her first song at 14, and performed her first paid gig at 15.  "We rode a bus to a restaurant near downtown San Diego," she recalls. "The band had cancelled that evening and we got the job."
 Growing up in the college town of Claremont, CA, Sandii's vast repertiore focused around the music of the 60's and 70's.  She sang for the Cask n' Cleaver steakhouse chain in the late seventies and early eighties playing requests and honing her skills as a musical entertainer.  She slowly added technology to her show, eventually playing with back-up tracks and electronic drums.  "I work with some great players, and love playing in a band, but clients don't always have the budget or room to hire a full band.  I'm very flexible.  I am just as comfortable working by myself as a soloist guitar/vocalist as I am as a duo, trio or full band."
 Sandii's late husband Ron, a banjo player, got Sandii playing bluegrass music in the 1990's.  Their band, "The Acoustic Renovators"  which played pop songs in a bluegrass sytle had their own cable television show in Orange County, where they also played many special events. In 1993 they were even the featured band on Dr. Pepper's float in the Rose Parade. In 1995, while performing at the Laguna Beach Sawdust Festival, Pat Wayne who was Manager of Education at the Orange County Performing Arts Center, (now Segerstrom Center for the Arts),was intrigued how well Sandii musically interacted with a group of children.  She called Sandii and invited her to audition with the Center as a roster artist.  Sandii joined them in 1998.
 As her bookings as a single act grew, Sandii wanted to solo on a second instrument, and taught herself to play harmonica.  Now, she can easily find the melody and uses the harmonica sparingly to add variety.  "People always look so suprised when I take the harmonica out and insert it in my harmonica holder.  i think they just aren't expecting a woman to play a harmonica for some reason."
 In 2003, Sandii moved from Orange County to Idyllwild, California.  For the past 19 years, the restaurants of this small arts community have been booking Sandii as a soloist or in one of her many musical ensembles.  She has plays at Cafe Aroma, IdyllAwhile Wine Bar, Middle Ridge Winery, Ferro Restaurant,  opens the summer concerts in the park, and taught music to kids at the Idyllwild Arts summer program.  She enjoys playing at Carol's Restaurant at the Baily Winery in Temecula, and tours Central Coast playing at inns and wineries in that region. Sandii spends the winters in Palm Desert with her life partner Vern, and  played for Omni Resort's Rancho Las Palmas Hotel, Desert Aire RV Resort, the Palm Desert Library, Sun Resorts, Covered Wagon Tours, and the La Quinta museum, to name a few. For  4 years, Sandii performed on the family stage at Coachella's renowned Stage Coach Music Festival.  In 2016, she served as a voluntary committee member for the Academy of Musical Performance through the Coachella Valley Community Trust, helping to get the program off ground.  The program Eastern Coachella Valley youth by offering a tuition-free summer music camp.  Sandii still keeps her Orange County roots by performing in San Clemente on a regular basis.
  Sandii is a talented, conscientous, professional, and reliable musical entertainer that can play just about any style of music.  She will help make your next event fun and joyful!
| | | | |
| --- | --- | --- | --- |
| Fire and Rain | Help Me | Heart of Gold | Misty |
| Stormy Monday | Hallelujah | Ooh, Baby Baby | Banana Pancakes |
| Time After Time | Walk on By | Gimmie That Wine | Satin Doll |
| Glory of Love | Wagon Wheel | I'm Yours | Natural Woman |
| Folsom Prison | Steamroller | Bye Bye Love | It's Too Late |
| Big Yellow Taxi | When You Say Nothing at all | Constant Craving | How Sweet it Is |
| On and On | Have You Ever Seen the Rain | Crazy | Don't Know Why |
| Waiting for the World to Change | Here Comes the Sun | Dance With Me | Angel from Montgomery |
| Girl from Impanema | Don't Let Me Be Lonely Tonight | Ricki, Don't Lose That Number | Landslide |
| Tequilla Sunrise | I Feel the Earth Move | Can't Hurry Love | Time of Our Life  |
| One of Us (Joan Osborne) | Strong Enough | Prosperity Blues | Hotel California |
| Brown Eyed Girl | Moondance | It Won't Matter Anymore | To Know Him is to Love Him |
| Blue Moon | Ain't Misbehavin' | Rhiannon | Under the Boardwalk |
| Blackbird | Ain't No Sunshine | Johnny B. Good | Volcano |
| No Expectations | In My Life | Walkin' After Midnight | Rockytop |